Wikipedia is one of the most ubiquitously used sources on the planet — I know you've used it to check out a quick fact or two, and you know your library patrons are also using Wikipedia in large and small ways. So why not make a small contribution to make it better?
The idea of actually editing Wikipedia can be overwhelming and intimidating. I know from my own experience; when I first started editing, I was very nervous — what if I do something wrong — what is I break it?!? Honestly you can't break Wikipedia and there is little chance that you will do something wrong. However, as librarians and information professionals, there is a lot RIGHT you can do in editing Wikipedia. And the #1Lib1Ref campaign offers an opportunity for each librarian to make a small but significant contribution to Wikipedia. Interested? Read on!
#1Lib1Ref was created by the Wikipedia Library project as a birthday present for Wikipedia in 2016 and led with this inspirational message: "imagine a world in which every librarian added a reference to Wikipedia." The campaign, which ran between 15-23 January was successful (you can find out more about what happened here) but the Wikipedia Library team received two suggestions: give us more lead time and lengthen the contribution window.
Now in its second year, #1Lib1Ref is starting the awareness building now, to give you time to plan. And you will have almost three weeks, between 15 January and 3 February. So what can you do?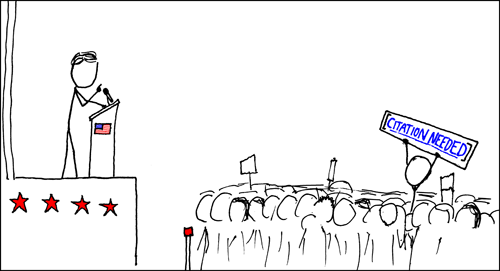 Add a citation to Wikipedia (and tag your edit with #1Lib1Ref). That's it!
Oh wait, you want more? Okay, here is a longer version.
Even though Wikipedia is highly used there is a big difference between a well-researched and well-cited feature article (for example the article on the Pennsylvania-class battleship) and a stub article (for example the article on American Libraries) which may contain few sources and are not well-cited. As a librarian, you have access to excellent sources; you know what makes a good source. You are in a position to help! Here's how to take action.
Find an article that needs a citation. There are many ways to do this. You can Fulfill a "Citation Needed" using Citation Hunt; you can find an article with sourcing problems; you may run across an an article while browsing (look for that "citation needed" template).
Find a reliable source that can support that article
Add a citation using Wikipedia Style. Click here to learn some basics about editing Wikipedia and  adding citations.
Add the project hashtag #1Lib1Ref in the Wikipedia Edit Summary when you save your edit
Share your edit on social media with #1Lib1Ref and encourage others.
Feel good! You've left Wikipedia better than you found it!
Want to do even more? Get together with some colleagues for an hour or two for more editing and greater impact; plan an event to include patrons (this is a great opportunity to talk about what a quality source is); or, do something else — and tell us what works.
For even more information, see the #1Lib1Ref page. So get ready… and happy editing!
Merrilee Proffitt is Senior Manager. She provides community development skills and expert support to institutions within the OCLC Research Library Partnership.