We asked, you answered, and as usual we got a lot of great suggestions from our readers. Thank you! Crowdsourcing helps to distinguish ours from other, similar gift guides, and we are pleased to keep up our tradition.
We received a few whimsical gift ideas including a requests for a time machine which would help with (among other things) the ability to chip away at a backlog, to avoid or revisit poor acquisition or accessioning moments, and the opportunity to ask record creators questions that would help with description. Of course a owners manual would be the perfect companion stocking stuffer!
On the more practical side, why not prepare to start the new year with a Levenger Circa note-taking/organizing system? These come in different styles, are expandable, and can be customized to fit your needs. (Another reader notes that there is a generic version available through Office Depot.)

Or what about a novelty measuring tape? One reader suggests has a cat measuring tape and has gifted a giraffe measuring tape. I quite like this robot version.
For cold weather, cold stacks, or even workplaces with aging and unpredictable HVAC systems, what about a heated mouse? Be the envy of all your colleagues who are still making due with the fingerless gloves we recommended a few years ago.
Another reader suggests a book-alike cover for a tablet or similar — one example is the BookBook
Speaking of coffee, what about a double-walled insulated mug? For archivists who won't admit to preservation colleagues that they indulge–very carefully–in drinking tea/coffee at their desks. Shh!
Library nostalgia is always in style — readers let us know about an library stamp t-shirt and a library card mug — both hearken back to the good old days before barcodes and automated circulation (does anyone really miss those times?). If you are looking for more goods in this area, both OutOfPrintClothing and UncommonGoods seem to have a lot of selection from socks and scarves to tote bags.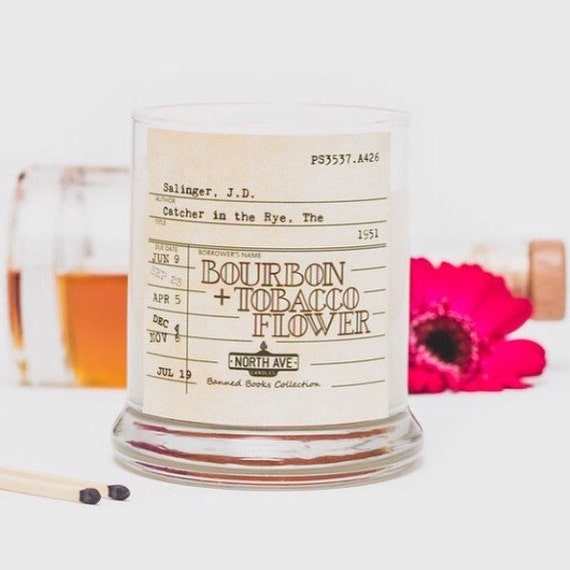 North Avenue Candles in Pittsburgh offers a series of "banned books" candles. Each candle is a tribute to a banned book and comes with a side label that explains why the book was banned. Available via Etsy.
And if you need to take a break from your heated mouse, why not curl up by the light of your banned book candle, sipping tea from your library nostalgia mug and read a good book? For example this 1989 classic about the thrill of finding original source materials that was recently translated into English:
1001 |a Farge, Arlette.
24010 |a Goût de l'archive. |l English
24514 |a The allure of the archives / |c Arlette Farge ; translated by Thomas Scott-Railton ; foreword by Natalie Zemon Davis.
264 1 |a New Haven : |b Yale University Press, |c [2013]
Want to read but not into archives?  Looking for something to stir your soul? "How can you go wrong with a laureate? Bob Dylan: The Lyrics 1961-2012 includes the full range of his Homeric talents."
Finally, something we can all relate to — concerns about money and the budget. One reader had a suggestion for those concerned about threats to public library funding in the United States: make a donation to EveryLibrary and then present some homemade goodies or a bottle of something special with a note saying, "I made a donation in your name to save public libraries." A direct donation to the library of your choice also works.
Thanks to Rob Jensen, Jill Tatem, Peter K, Rebecca Bryant, Betty Shankle, Anonymous, Roy Tennant, Steve Smith, Amy, Cynthia Van Ness, Kate Bowers, and Mike Furlough for their contributions!
Merrilee Proffitt is Senior Manager. She provides community development skills and expert support to institutions within the OCLC Research Library Partnership.