This is the third in a series of three blog posts about the 2019 RLUK Conference

As Anna Clements from St Andrews shared, the RLUK conference offered many wonderful and thought provoking talks. Those of us who work with the OCLC Research Library Partnership are always thinking about the future of research libraries; therefore I am highlighting just a few sessions that gave me some perspective on that shared future.

The research library of 2030 will look like. . .
Torsten Reimer (British Library) gave me a lot of food for thought with his (rather gloomy) predictions for the future research library in 2030 (The once and future library: will there be, and what might a research library look like in 2030?).
He predicts that information resource discovery will bypass the library altogether due to the overwhelming success of open access.
The type of research support we currently offer will by then be highly automated, subsequently greatly reducing library investment.
Similarly, identifiers will be almost entirely automated, with the majority assigned at the the time research outputs are created.
What about library support for CRIS / RIM systems? In the future, researchers will gravitate towards global, connected systems.
What does the promise of open science bring for libraries? He sees more commercial players or organizations like CERN getting into this specialized and costly space.
Special collections? If you have "done the right thing" and digitized content openly, people will prefer to go through other more advanced systems to access and use collections.
With the rise of artificial intelligence (AI) and machine learning, Riemer predicts the leading consumer of library-produced data will be software, not people. At our current level of skills and training, library staff may struggle to master algorithms. So while our data may be in the cloud and in open systems, data manipulation may well be out of our control.
The takeaway?
In order for libraries to play in this space we will need to be much more coordinated than we are now.
On the positive side, the library of 2030 will have a role in digital literacy but only if we have a deep understanding of digital tools. Similarly, librarians may have a leading voice in terms of speaking out for data privacy; again, we will need to have expertise and standing. "Library as space" will still be relevant because (he asserts) "people will still have bodies." He predicts that library spaces will serve not only campus but also local communities. [Watch Torsten's talk on YouTube]
Machines and people
Related to our machine overlords, I attended a workshop on academic libraries and AI, ably led by Stephen Pinfield and Andrew Cox, based on their paper The intelligent library: Thought leaders' views on the likely impact of Artificial Intelligence on academic libraries. The workshop echoed many of the themes we have been hearing in the Research Works discussions led by OCLC Practitioner Researcher in Residence Thomas Padilla: promise tempered by ethical issues; concerns about bias mixed with excitement about working at scale.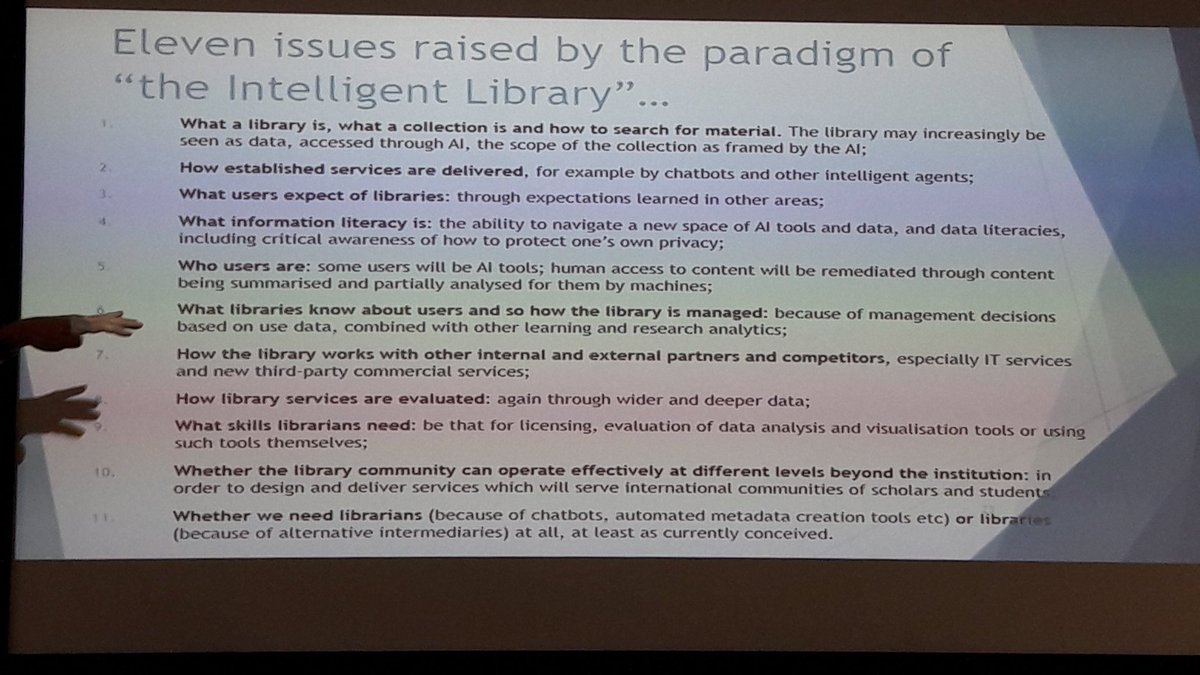 A presentation from the University of Lancaster (Joshua Sendall and Hardy Schwamm) brought humans and the power of human connections back into sharp focus. The University of Lancaster libraries regularly facilitate and host Data Conversations, in-person events in which researchers can talk to one another about data gathering and data sharing, in a supportive, informal cross-disciplinary environment. A campus survey revealed that researcher attitudes are shifting toward greater support of open research, but with legitimate and practical reservations. They see the way forward as leading and engaging in conversations that will result in more shifts in attitudes. What I appreciated about the Lancaster perspective was the message that the key to success with data, which seems dry and clinical, is seeing it as a shared journey that is fundamentally human. [Watch this talk on YouTube]
So, is the future of libraries about machines or people? I think it's likely to be a mix of both. Meet me back here in eleven years, and let's discuss!
Merrilee Proffitt is Senior Manager. She provides community development skills and expert support to institutions within the OCLC Research Library Partnership.